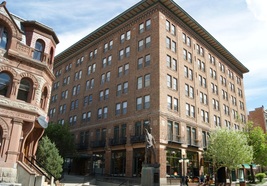 its for Sale and Rent
Welcome home...
When The Placer was converted into condominiums in 2008, it quickly became the most
interesting and sought after residential building in the downtown area.
In addition to its convenient location and access to hiking trails, The Placer offers many building amenities, including a laundry room on every floor, daily cleaning of the common areas, easy elevator access, and secured entryways. Residents and visitors can enjoy lunch and dinner at Taco del Sol without leaving the building, or relax in the Lobby with family and friends. During the spring and summer months, residents can also take advantage of outdoor eating on the atrium; space for container gardening is also available.
Currently, there are two of the original 59 units in the building for sale. They include:
21nlastchancegulch3e.com
21nlastchancegulch3f.com
For information about residential sales at The Placer, contact Ryan Stavnes at
Exit Realty of Helena:
(406) 465-3038, or visit him at ryan@exitrealtyhelena.com.
Residential rentals:
To learn more about condos for rent, contact
REI Property Management at 406-594-2725, or
Pinnacle Property Management at (406) 449-1234
.
Commercial space inquiries:
Contact Alice Santos at Keller Williams Realty: (406) 439-8693.
_____________________________________________________________________________________________________
---