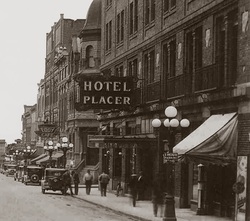 A Brief History of The Placer
If these walls could talk...
Named for the placer gold that was discovered during the excavation of its foundation, at seven stories, the former 173-room hotel is still the tallest building in downtown Helena. When it was completed in 1913, The Placer became the largest hotel between Minneapolis-St. Paul and the West Coast. In the years that followed, it would also become one of the most famous.
From the outside, the building is an armchair architect's delight. Among its overhanging eaves, wide cornices, and iron balconies, it is possible to find a virtual who's-who of ornamental styles, including Craftsman, English, Italian, and Mission. Designed by George H. Carsley in consultation with Cass Gilbert, the architect of the famed Woolworth Building in New York City, The Placer reflects many of the elements of one of Gilbert's earlier designs: the Montana Club Building on Sixth Avenue. With its reinforced concrete and red brick from the Western Clay Manufacturing Company, The Placer was a modern structure that was able to withstand the series of earthquakes that rocked the city during October of 1935.
Most of the money to build The Placer came from donations, and as a public venture, it inspired a great deal of civic pride. In addition to its magnificent architectural details, The Placer was also home to many state-of-the art conveniences: a modern kitchen, central refrigeration, and an automatic dishwasher. The program for the formal ball that was held in honor of its grand opening was illustrated by none other than the artist Charles M. Russell, a fact that even today remains part of its cherished history. On that night, one can only imagine the people who might have passed beneath the hotel carriage entrance or gathered around a fireplace large enough to accommodate a seven-foot log.
Over the years, the hotel became a hotbed of political intrigue. For a while it served as the unofficial headquarters of Montana's state legislators and lobbyists. During the 1960 presidential campaign, John F. Kennedy, accompanied by his brother Ted and his brother-in-law Sargent Shriver, stayed overnight at The Placer. According to hotel records, the thirty-fifth president of the United States stayed in Room 620, in what is now a 2-bedroom condominium.
During the 1970s, the hotel was converted into apartments and the u-shaped opening that ran the length of the building was turned into an atrium. In 2008, it was converted into condominiums and quickly became one of the most sought-after residences in downtown Helena. Today, the 59-unit building is home to a wide and interesting variety of owners and renters from Montana, the United States, and even overseas, people who have been drawn to, and are committed to preserving this piece of living history.
For more information: http://www.helenahistory.org/
---