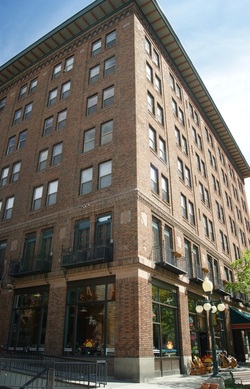 Welcome to The Placer
A great place to live and work in the heart of Helena

Welcome to The Placer Condominium Association, an organization committed to enhancing the comfort, convenience, and security of our vertical neighborhood while preserving its historic appeal and character.

Once one of the largest and finest hotels west of the Mississippi River, this magnificent pre-war building is now a thriving community in the heart of Montana's Queen City. A striking architectural accomplishment that was built to last, The Placer set the stage for many a grand wedding and lavish banquet and survived the city's great earthquake of 1935. During the first half of the 20th century, the hotel served as the unofficial headquarters of the Montana State Legislature and as overnight lodging for Senator John F. Kennedy during his campaign for the presidency in 1960.

Now in its sixth year as a condominium residence, The Placer continues to attract residents not only from Montana, but also from states all over the country. Located on the Bullwhacker Block on The Walking Mall, The Placer offers a one-of-a-kind living experience: the convenience of a city, a warm, small-town atmosphere, and the excitement of being just minutes away from some of the finest recreation areas in the United States. Within walking distance are the Lewis and Clark Library, art galleries, restaurants and theaters, as well as churches representing nearly every denomination. Nearby shopping conveniences include the city's only independent bookseller, several fine and outdoor clothing shops, and the historic Parrot Confectionery, a world-famous, family-owned business and old-fashioned soda fountain that has been offering handmade chocolates since 1922.

On this site you will have the opportunity to learn more about The Placer's rich history and promising future, and why our residential and commercial residents have found it a great place to live and work in the heart of Helena.





---